Get a Smart Home at a Smart Price
---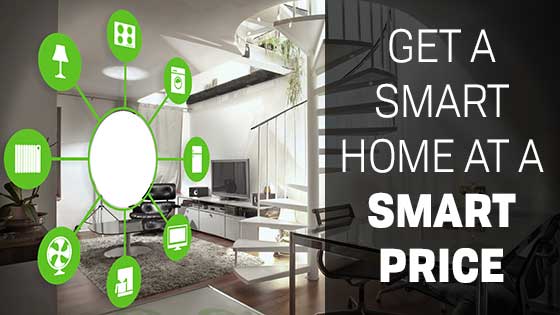 Smart homes are becoming more popular, which also means they're becoming more affordable, so now is a great time to invest in smart-home technology. Budget-smart devices that connect to your phone allow you to have control of your home no matter where you are, offering safety, security, and peace of mind.
Speakers
Smart speakers are becoming very popular; even homes that are not "smart" often feature this smart-home technology. The great thing about a smart speaker is that it can connect and control many of your other smart devices as well.
Amazon has a good selection of smart speakers; a great and affordable option is the Amazon Echo Dot. At just $40, you can control your entire home with a single speaker once you have everything connected and set up.
Google has a similar option in their Google Home Mini, which will also cost you $40. It functions similarly to The Amazon Echo. When deciding which smart speaker to purchase, consider all of their functions, as well as which of your other smart devices will connect with each brand.
Lights
Smart lights improve your home because they can actually keep your energy costs down since you can control your lighting remotely.
The Philips Smart Bulb Starter Kit comes in at $70. This kit starts you off with two bulbs, plus a hub that allows you to connect with Alexa, Google Home, and more. As your budget continues to grow, you can continue to grow your smart-bulb use throughout your home.
Doorbells
Smart doorbells are great for either when you're home or away. You can see who is at your door and screen visitors from inside the safety of your home, scare off potential package stealers while you're away, and feel safe and secure having a constant eye on your door at night.
At $99, the Ring Video Doorbell is a great option that not only monitors your front door but also connects you to any of your neighbors who may also have the Ring; a great way to keep an eye on crime in your neighborhood.
Related Read: Is Your Home Secure?
Cameras
Adding cameras to your smart home is extremely easy. With so many functions other than security (don't you wonder what Fido does all day?), a camera might offer you the best bang for your buck in your smart home. There are many options to choose from, so it depends on what function you want your camera to play.
At $100, the Blink Security Camera is a good option. It offers HD video, motion sensors, instant alerts, and more. What's really great about this camera is that there are no fees or subscriptions, which could add up very quickly.
Another great option is the Wyze Cam, which includes night vision as well as two-way audio. It's extremely affordable at $26, so this would be a great selection, especially if you want to have a few throughout your home.
Related Read: 7 Ways to Protect Your Home While on Vacation
When you're on a budget, it can be hard to justify spending money on these devices. However, consider what matters most to you in an automated smart home and start there. You don't need to buy all of these budget-smart devices at once, but by investing in your home over time, you can build up to the fully automated smart home of your dreams.
Check out this helpful infographic from MGIC.
Embedded from MGIC Connects